The standardization of critical parts of the INDEVA AGVs has made it possible to attain a very high reliability & easy diagnostic as well as quick replacement of parts in case of failure.
Indeva AGVs are composed of standard basics modules that can be easily (plug-in feature) combined in different ways to shape the AGV according to the requirements of each application.
The basic modules are:
 Control box
 Drive unit
 Batteries
 Safety devices & obstacle sensor
INDEVA® AGV – Trolleys, Accessories & Options
A range of accessories & options are available to enhance your INDEVA® AGV:
Battery trolleys
Made with INDEVA Lean System modular structure. Very useful accessory for changing batteries: the battery smoothly slides unto the AGV & from the AGV to the trolley by means of roller tracks.
Battery pack
Spare standard batteries are available in 40A/h and 70A/h 24 volt DC. Batteries of different capacities are available on request.
Trickle charger
Each AGV crosses a charging point whilst travelling which helps to maintain the battery in a charged condition.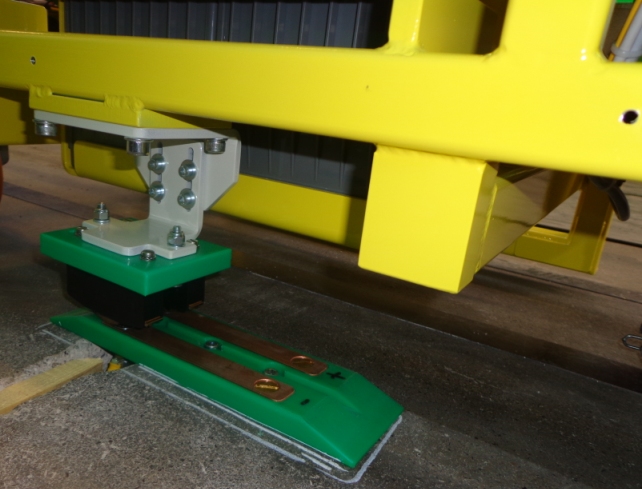 Recharging station with plate fixed onto the floor and item fixed on the AGV.
Route & Markers 
We design the route & lay the magnetic tape to your specific requirements.
Magnetic markers
Glued or fixed with resin to the floor are the indicators where each AGV must stop to carry out a task.
RFID (RadioFrequency IDentification)
System for the univocal identification of position so that an AGV can be added to the route without any external input.
Communication & Control System
Supervisor & Controller
It is the brain interacting with all the vehicles in the entire system: it receives from the AGVs information on their position and work parameters and controls crossings and overall traffic flow.
Controls AGV and all the other line components we supply such as roller conveyors, trolleys, WI-FI start-stop, etc…
Controls crossings
Controls position on the route
Assigns the task to be completed by the AGV
Controls battery level & other parameters
Informs about failure & position of the AGV in case of unplanned stop.
Wi-Fi Device
You can equip your AGV with a WI-FI card to allow it to communicate with other devices, for example other AGVs, to control crossings or Start-Box, etc..
WI-Fi Start-Box
Remote Push Buttons allows to start AGVs by means of Wi-FI. This device can be installed on the operator, not on the AGV, in order to improve ergonomics for the operator. This accessory can be also used in order to interface an AGV with other machines on the line.
Electronic Kanban
Electronic Kanban system allows to assigns a preset task to an AGV. It is then possible to have the AGV perform this task at any time by simply activating a switch, either manually or automatically from a remote position.
Custom Trolleys
We can design & manufacture custom trolleys for the INDEVA TUGGER & TUNNEL AGVs. We can give guidance in the design & manufacture of the trolleys in the best system for the automatic loading/unloading of materials.
Custom trolley can be made with steelwork.
INDEVA® AGV trolley structure can be made with the modular pipes & joint INDEVA Lean System.